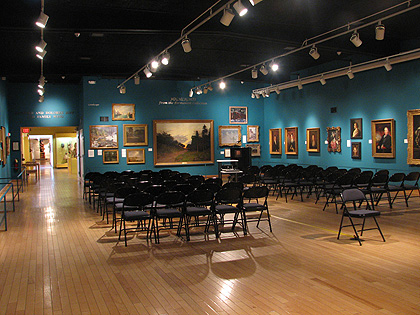 Let us help you incorporate 5000 years of world art into your next event. The Lowe Art Museum offers elegant gallery spaces to host lectures and private receptions, all surrounded by magnificent works of art. Requests are evaluated in keeping with our mission to "preserve the permanent collection according to the highest professional standards."

To request an on-site tour for Gallery Rentals please contact our Special Events department at 305.284.1540 or yaba@miami.edu.
Gallery Rental Requests and Confirmation
Confirmation will occur when the conditions below are met and approved by the Director in writing. There will be no exceptions to this agreement unless confirmed in writing by the Museum Director.
Since Lowe Art Museum events hold priority in scheduling, no confirmation will be given more than three (3) months in advance. The date, time, location, and number of guests must be approved and agreed to in writing by the Lowe Art Museum. A non-refundable deposit of 25% of the basic room rental fee is required upon signing this agreement. The Special Events Coordinator has to meet with the renter to review all arrangements for the event no less than thirty (30) days prior to the event.
Non-University of Miami departments or private users shall furnish public liability and property damage insurance, designating the user and the University of Miami as named insured. A "Certificate of Insurance" must be issued by the insurance company providing coverage; the limits of liability shall not be less than $1,000,000 Combined Single Limit (CSL). This certificate must be presented to the Lowe no less than two (2) weeks prior to the scheduled event.
The user must provide the Lowe Art Museum a sample of the invitation or announcement of the event prior to printing. Valet Parking is available on the University of Miami Coral Gables Campus through a private approved vendor for an additional fee.