The Myrna and Sheldon Palley Pavilion for Contemporary Glass and Studio Arts houses a stunning $3.5 million glass collection with masterpieces by Dale Chihuly, Richard Jolley, William Carlson, Howard Ben Tré, José Chardiet, Dan Dailey, Michael Glancy, Harvey Littleton, Steven Weinberg, Stanislav Libenský, and Lino Tagliapietra, as well as ceramics by some of the most talented international artists.
The Palley Pavilion opened on May 1, 2008 thanks to the vision of long-time University supporters and alumni, Sheldon and Myrna Palley, who donated $1.7 million towards the construction of the Pavilion, and whose collection is a promised gift. This is the first major addition to the Lowe in twelve years.
Showcased in the 4,000 square feet gallery space are over one-hundred objects, not only from the Palley collection, but also from other generous collectors.
---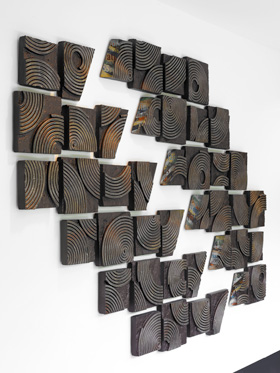 William Carlson, United States, b. 1950
Contundo, 2007
cast glass and paint,
63 x 89 x 3"
Promised gift of Myrna and Sheldon Palley, IL2008.15
©2011 William Carlson
---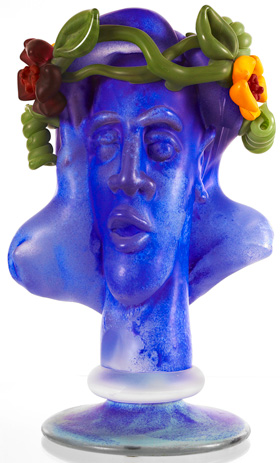 Richard Jolley, United States, b. 1952
Blue Head with Flowers, 2000
glass, 14 3⁄8 x 9 1⁄4 x 6 7⁄8"
Collection of the Lowe Art Museum, University of Miami
Promised gift of Myrna and Sheldon Palley, L2005.5.18
©2001 Richard Jolley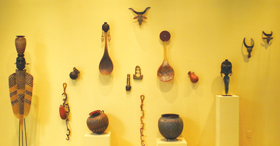 William Morris, United States, b. 1957
Dinka Woman, 2001
hand-sculpted glass, 78 1⁄2 x 15 3⁄4 x14 1⁄2
Collection of the Lowe Art Museum, University of Miami
Gift of Lin Arison, 2008.16.2
©2001 William Morris
and
Dinka Woman's Hearth, 2003
14-piece hand-sculpted glass wall installation
Collection of the Lowe Art Museum, University of Miami
Gift of Lin Arison, 2008.16.1
©2003 William Morris
---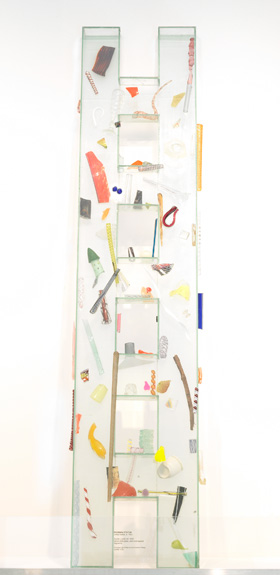 Therman Statom, United States, b. 1953
Seattle Ladder #2, 1992
constructed glass, paint and applied fragments, 84 x 19 1⁄2 x 5"
Promised gift of Myrna and Sheldon Palley, IL2008.13.39
©1992 Therman Statom