December 15, 2007 - February 3, 2008
ART STUDENTS LEAGUE OF NEW YORK: HIGHLIGHTS FROM THE PERMANENT COLLECTION
Seventy-five works from the school's permanent collection documents its esteemed heritage and reflects art movements of the last 125 years -- from late 19th century figure drawings to 1930s social realist prints to pop and abstract paintings, and works by contemporary students and instructors. The roster of teachers and students reads like a Who's Who in American art.
---
AFROCUBA: WORKS ON PAPER, 1968-2003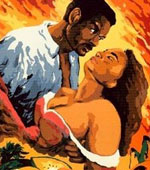 A ground-breaking exhibition features fifty-six prints and drawings by twenty-six artists from Havana and Santiago de Cuba. Representing a cross-section of Cuban society, their works exhibit a diverse range pf subject matter, styles, and techniques. This is the first exhibition to focus on AfroCuban artists and themes through a historical-thematic lens, and the first time this work has been grouped together in a major exhibition outside of Cuba.

Organized by the San Francisco State University Art Gallery, and curated by Judith Bettelheim; circulated by Curatorial Assistance, Los Angeles.
---
February 16, 2008 – March 30, 2008
WOMEN ONLY! IN THEIR STUDIOS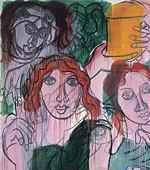 Many contemporary women artists who have exhibited extensively in galleries and museums in the United States and worldwide, deplore how little their work is recognized the American public. This exhibition is an eclectic assemblage of works by 20 of our great, culturally diverse, women artists, who broke through the glass ceiling, in fact shattered it, but are not yet household names. Videos of artists at work and photographs of their studios will further enliven the exhibition. Jennifer Bartlett, Elizabeth Catlett, Ann Hamilton, Grace Hartigan, Jenny Holzer, and Miriam Schapiro are a few of the featured artists. Curated by Eleanor Flomenhaft.Tour Development by Smith Kramer Fine Art Services, Kansas City, Missouri. This exhibition is made possible by a grant from the Funding Arts Network.
---
LABORS OF LOVE: WOMEN ARTISTS FROM THE PERMANENT COLLECTION
The Lowe presents this selection from the permanent collection to complement Women Only!. On view through 2008 in Matus Hall. Curated by Gita Shonek. Organized by the Lowe Art Museum.
---
April 12, 2008 – June 8, 2008
ANNUAL UM FACULTY EXHIBITION- J. Tomás López: THE METRO SERIES
Beginning in 1983, López took his camera underground, into the subways, to document urban transportation as both phenomena and theatre. Using six cities worldwide as his laboratory, New York, Paris, Madrid, Rome, Barcelona, and London, López created a curious study of subway commuters. The images, which capture everyday travelers, Wall Street yuppies, street performers, the homeless, and unemployed, demonstrate changes in fashion, attitudes toward security, and cultural rebellion. The exhibition at the Lowe presents work from the past two years in New York, Paris, and Madrid. López is a Professor in the University of Miami Department of Art and Art History and the Head of Electronic Media/4D.
---
UM STUDENTS/ MFA EXHIBITIONS
Annual two-part exhibition features juried works by students and Master of Fine Arts candidates. Organized by the LAM.
---
June 28, 2008 – November 2, 2008
EXCAVATING EGYPT: GREAT DISCOVERIES FROM THE PETRIE MUSEUM OF EGYPTIAN ARCHAEOLOGY, UNIVERSITY COLLEGE LONDON
The exhibition features a rare treasure trove of antiquities from the Petrie Museum of Egyptology, University College, London. Photographs, excavation notes, and personal journals shed further light on the science of archaeology during its infancy, as seen through the eyes of one of its greatest pioneers, Sir Flinders Petrie, known as the "father of Egyptian Archaeology."

Organized by the Michael C. Carlos Museum of Emory University in cooperation with the Petrie Museum of Egyptian Archaeology, University College London, with generous support provided by the Massey Charitable Trust and the Georgia Council for the Arts.
---
ETERNAL EGYPT: PHOTOGRAPHY FROM THE PERMANENT COLLECTION
Photographic images of the Nile Valley during a bygone era reveal glimpses of an Egypt from a bygone era. Featuring the Lost Egypt Portfolios produced by The Oriental Institute of the University of Chicago.