November 22, 2008 – January 18, 2009
CHARLES BIEDERMAN: AN AMERICAN IDEALIST
This comprehensive overview of the life and work of an important American modernist, features the broad array of paintings and sculptures created during his prolific and influential artistic career. Organized by the Frederick R. Weisman Art Museum.
---
January 31, 2009 – April 5, 2009
LAS ARTES DE MEXICO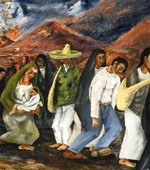 Celebrating the rich and diverse artistic traditions of Mexico, the exhibition examines over 3,500 years of art and culture from the ancient world of the Mayans and Aztecs to 20th century masters. It examines over three millennium of tradition and change across the broad spectrum of Mexican life, from the ancient to the contemporary, engaging the viewer in a celebration of light and color. Courtesy of the Thomas Gilcrease Museum Association, Tulsa, Oklahoma.Tour Development by Smith Kramer Fine Art Services, Kansas City, Missouri. Funded at the Lowe by the Cowles Charitable Trust, Instituto Cultural de México Miami, SRE-Consulado General de México en Miami, the Mexico Tourism Board, and AeroMexico.
---
April 18, 2009 – June 14, 2009
UM STUDENTS & MFA EXHIBITIONS
Annual two-part exhibition.
---
UM FACULTY EXHIBITION- CARSTEN MEIER: NATURELL
Meier's work focuses on our perception of nature and how the act of seeing a photograph establishes a transitory thread between the viewer and the environment depicted.
---
June 27, 2009 – October 4, 2009
THROUGH THE LENS: PHOTOGRAPHY FROM THE LOWE ART MUSEUM
Consistent with the broad collecting agenda of the Lowe, the Lowe's photography holdings range from the early days of the medium to the present. Organized by the Lowe Art Museum.
---
ARNOLD NEWMAN: PHOTOGRAPHIC LEGACY
The exhibition features some fifty-nine photographic images by the 20th century's legendary portrait photographer. Newman is renowned for capturing the essence of the work and personality of towering figures from the worlds of arts, letters, and politics.
---
On view through 2009
MANUEL ALVAREZ BRAVO: THE SOUL OF MEXICO
The Lowe presents this selection from the permanent collection. Curated by Gita Shonek. Organized by the Lowe Art Museum.