June 26 – October 31, 2010
THE JAGUAR'S SPOTS: ANCIENT MESOAMERICAN ART FROM THE LOWE ART MUSEUM, UNIVERSITY OF MIAMI
This comprehensive exhibition of masterpieces from ancient Mexico through Panama that now reside in the permanent collection of the Lowe Art Museum will be accompanied by a scholarly catalogue, lectures and educational programs for the public that highlight and explore the complex relationship between art and the natural world.

Curated by Dr. Traci Ardren, Associate Professor of Anthropology and Director of Women's and Gender Studies Program at the University of Miami. Organized by the Lowe Art Museum, University of Miami.
---
October 30, 2009 – January 24, 2010
TREE OF PARADISE: JEWISH MOSAICS FROM THE ROMAN EMPIRE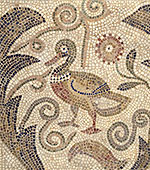 From the Brooklyn Museum's permanent collection, twelve rarely-seen, extraordinary mosaic panels from the sanctuary floor of a Roman-period synagogue excavated in present-day Tunisia are the keystones of an important exhibition that explores ancient Roman and Jewish history. Nine additional mosaics from other rooms in the synagogue and nearby buildings further illuminate the development of synagogue decoration in the late Roman Empire. Related artifacts, such as contemporaneous textiles, marble statues, gold jewelry, and bronze ritual objects, are included.

Tree of Paradise: Jewish Mosaics from the Roman Empire is organized by the Brooklyn Museum and made possible by the Martha A. and Robert S. Rubin Fund.
Additional funding for the exhibition at the Lowe Art Museum, is provided by the Funding Arts Network and Northwestern Mutual.
---
RICKY BERNSTEIN: KITCHEN DREAMS
A highlight of the zany glass creations of this multi-talented artist. Exhibition sponsored by Myrna and Sheldon Palley and the Art Alliance for Contemporary Glass.
---
February 6 – April 4, 2010
CUBA AVANT- GARDE: CONTEMPORARY CUBAN ART FROM THE FARBER COLLECTION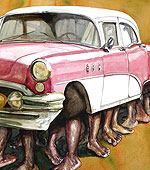 Large scale paintings, sculpture, drawings, photographs, and mixed media works highlight the cultural mixing, aesthetic diversity, and critical voice that reflect international contemporary art, but emerge from the distinct circumstances of Cuba itself. Forty Cuban born artists who live in and outside of Cuba use subtle devices of irony, metaphor, and ambiguity to challenge accepted artistic and political discourse, while employing a rich variety of experimental, conceptual, and postmodern strategies. A fully illustrated bilingual publication accompanies the exhibition.

Organized by the Samuel P. Harn Museum of Art at the University of Florida and toured by Curatorial Assistance Traveling Exhibitions (CATE), Pasadena, California. Sponsored at the Lowe Art Museum by Howard Farber, Northwestern Mutual, HSBC Private Bank, Baja Ferries, and the Cowles Charitable Foundation.
---
April 24– June 6, 2010
UM FACULTY EXHIBITION- WILLIAM CARLSON: AQUILA NON CAPIT MUSCAS (Translation- An Eagle Does Not Catch Flies)
Carlson's glass wall sculptures continue to explore issues of language and its varied manifestations. His examination of evolving forms of communication forms the base of his aesthetic focus, which is abstract and as ephemeral as language itself. Organized by the UM Department of Art and Art History. Sponsored in part by Stella Holmes and Overseas Partners Realty, Inc.
---
April 24– May 9, 2010
ANNUAL JURIED STUDENT COMPETITION EXHIBITION
---
May 12 – June 6, 2010
ANNUAL MASTERS OF FINE ARTS CANDIDATES EXHIBITION