A gift of thirty photographs by American photographer Frank Paulin will be on view through May 15, 2011 in the Lowe's Michael and Judi Matus Focus Gallery.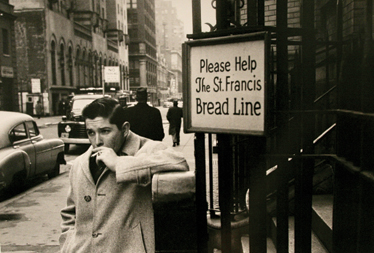 Rediscovered in his eighth decade, Frank Paulin is now recognized for uniquely documenting fleeting human moments of both humor and poetry, particularly against the backdrop of gritty urban scenes. Born in Pittsburgh, Paulin grew up in New York and Chicago. His photographic education began at the age of 16, when he embarked on his studies of fashion illustration and photography while working as an art apprentice at Whittaker-Christiansen Studio in Chicago.
Two years later in 1944, Paulin joined the Army and spent two years in the Signal Corps in Europe. It was during this period that he began to develop his documentary style by photographing the wartime devastation of German cities. After the war, under the GI Bill he continued his education at the Art Institute of Chicago and Institute of Design – the newly created American campus of the famed German Bauhaus School. While there, Paulin studied under distinguished professors from the original Bauhaus campus, including Laszlo Moholy-Nagy, as well as new American notables Harry Callahan and Arthur Siegel. The ID required photography for all students as part of a Utopian curriculum that sought to teach students to think in new ways. Professors Moholy-Nagy and Callahan turned the classroom into a laboratory for experimentation with paper and light.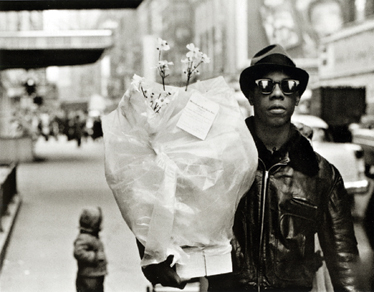 While studying, Paulin held a full-time job as fashion illustrator at a local art studio and freelanced for department stores throughout the region, like Marshall Field's and Mandel Brothers. Able to only attend classes at night, he remained in school through 1948. Paulin returned to New York City in 1953 where he continued to freelance in fashion illustration. With most of his days occupied by work, he began walking the city's streets at night, fueling his passion for gritty street documentary.
Spending most of his time in and around Times Square, Paulin was bombarded with subjects from all walks of life set against the stunning visual framework of advertisements, neon signs, and reflective store windows. By the end of the 50s, Paulin's impressive, educational résumé also included studies at the New School under the renowned art director Alexey Brodovitch. In his Design Laboratory classes, Brodovitch, who pushed traditional street photography into new and innovative directions, imparted a philosophy that affected an entire generation of leading photographers and designers. Among these students were photographers Irving Penn and Richard Avedon.
In 1957, Paulin became the first artist to hold a solo exhibit at the pioneering gallery, Limelight—the only gallery for art photography in New York at the time. Admiring reviews appeared in the New York Times and the Village Voice, which praised his "humor and compassion" and his uncanny ability to perceive paradox and record "poetic accidents." His timeless work is in the collections of the Milwaukee Art Museum, Museum of Modern Art, Whitney Museum of American Art, and the Yale University Art Gallery.
Visit the Lowe Art Museum Floorplan to Find this Gallery
Media Resources
Media Pack includes archived ZIP file with Press Release, images, and image captions.
For more information, contact the Lowe Art Museum.
---