The Lowe Art Museum at the University of Miami presents the exhibition Weavers' Stories from Island Southeast Asia, in which weavers and batik artists speak for themselves in videos produced at eight sites in Indonesia, Malaysia, the Philippines, and East Timor. What motivates women to create new patterns? How do they adjust to changing social and economic situations?
A panoply of human emotions and experiences — determination, longing, dream inspiration, theft, war, and more — emerge from the stories of these remarkable women. In one video, for example, a weaver in Tutuala, at the far eastern tip of Timor, describes how she designed a cloth pattern by copying the skin of a snake. She recounts that this "snake cloth," now served by the snake spirit, became an object of such power that when one was stolen during a militia rampage in 1999, the snake destroyed all the coconut trees in Baucau in revenge. Another weaver tells of learning weaving patterns from her deceased mother, an expert weaver, when her mother visits her in dreams.
These seven to ten-minute oral histories include interesting footage of daily life with extended families and the interplay of generations, detailed looks at weaving and dyeing techniques, and unique celebrations, such as a wedding in a sultan's palace. Textiles created by the featured weavers and batik makers accompany each video.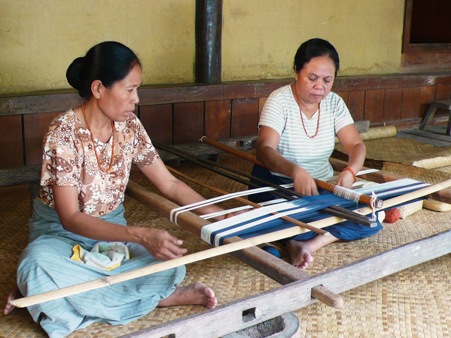 Exhibition Credits
Weavers' Stories from Island Southeast Asia is curated by Roy W. Hamilton, Curator of Asian and Pacific Collections at the Fowler Museum at UCLA. Major support is provided by the Henry Luce Foundation and the R.L. Shep Endowment Fund of the Fowler Museum. Additional support is provided by the Asian Cultural Council, the Fowler Textile Council, and the NCCA (National Commission for Culture and the Arts, Republic of the Philippines).
Weavers' Stories at the Lowe Art Museum is sponsored by Funding Arts Network, HSBC, and Bacardi U.S.A., Inc. Lowe Art Museum exhibitions and programs are also supported by Beaux Arts, the general membership, the Miami-Dade County Department of Cultural Affairs and the Cultural Affairs Council, and the Miami-Dade County Mayor and Board of County Commissioners.
Related Programs
Lecture and Opening Reception
Friday, January 30, 2015, 6:30 p.m. to 9 p.m.
LoweDown and gallery tour
Thursday, March 5, 7 p.m. to 9 p.m.
Newman Photography Lecture with Chris Rainier
Wednesday, March 18, 7 p.m.