The Myrna and Sheldon Palley Pavilion for Contemporary Glass and Studio Arts houses a stunning $3.5 million glass collection with masterpieces by Dale Chihuly, Richard Jolley, William Carlson, Howard Ben Tré, José Chardiet, Dan Dailey, Michael Glancy, Harvey Littleton, Steven Weinberg, Stanislav Libenský, and Lino Tagliapietra, as well as ceramics by some of the most talented international artists.
The Palley Pavilion opened on May 1, 2008 thanks to the vision of long-time University supporters and alumni, Sheldon and Myrna Palley, who donated $1.7 million towards the construction of the Pavilion, and whose collection is a promised gift. This is the first major addition to the Lowe in twelve years.
Showcased in the 4,000 square feet gallery space are over one-hundred objects, not only from the Palley collection, but also from other generous collectors.
---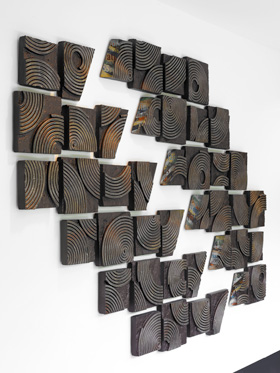 William Carlson, United States, b. 1950
Contundo, 2007
cast glass and paint,
63 x 89 x 3"
Promised gift of Myrna and Sheldon Palley, IL2008.15
©2011 William Carlson
William Carlson (b. 1950, Ohio) received his M.F.A. in 1976 from New York State College of Ceramics at Alfred University. He is currently an Endowed Professor at the Department of Art and Art History at the University of Miami. He was formerly a Professor of Art and head of the Crafts and Sculpture programs at the University of Illinois, Urbana-Champaign. Carlson creates laminated sculptures that incorporate materials ranging from glass of his own making to bits and bands of commercially produced safety glass and Vitrolite, as well as a wide variety of granites. Addressing his concern with issues of interior space, geometry, texture, and color, Carlson has significantly impacted the contemporary art glass movement as both an artist and an educator. A recipient of a National Endowment for the Arts Fellowship, he is represented in numerous private and public collections, including the Metropolitan Museum of Art, the Art Institute of Chicago, and the Hokkaido Museum of Art in Sapporo, Japan.
---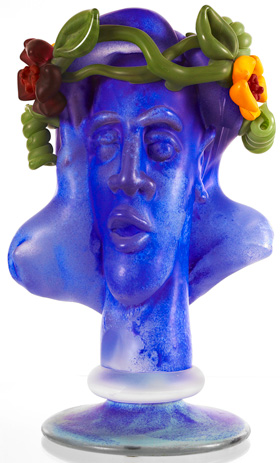 Richard Jolley, United States, b. 1952
Blue Head with Flowers, 2000
glass, 14 3⁄8 x 9 1⁄4 x 6 7⁄8"
Collection of the Lowe Art Museum, University of Miami
Promised gift of Myrna and Sheldon Palley, L2005.5.18
©2001 Richard Jolley
In 1970, he enrolled at Tusculum College, in Greenville, Tennessee, where he entered a new program in studio glass, directed by Michael Taylor. When Taylor moved to Peabody College in Nashville, Jolley followed him, and then completed his undergraduate degree at Peabody. After graduation, he studied at the historic Penland School, in Penland, North Carolina. He retains strong ties to Penland and its programs to the present date. Jolley entered the evolving studio glass movement during the countercultural era of the 1970s. Richard Jolley, whose career has spanned much of the history of the contemporary studio glass movement, is described in national and regional publications as one of the country's leading glass artists. In contrast, Jolley regards himself as an artist who works in glass, not as a "glass artist." For him, this distinction is a critical one. During the 1990s, while he explored the possibilities of media including painting, sculpture and printmaking, Jolley demonstrated that glass was only one medium appropriate for the expression of his complex aesthetic vision.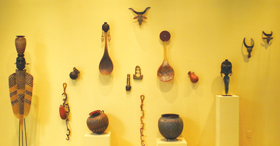 William Morris, United States, b. 1957
Dinka Woman, 2001
hand-sculpted glass, 78 1⁄2 x 15 3⁄4 x14 1⁄2
Collection of the Lowe Art Museum, University of Miami
Gift of Lin Arison, 2008.16.2
©2001 William Morris
and
Dinka Woman's Hearth, 2003
14-piece hand-sculpted glass wall installation
Collection of the Lowe Art Museum, University of Miami
Gift of Lin Arison, 2008.16.1
©2003 William Morris
William Morris is considered one of the most gifted and innovative glass artists in the U.S. today. He lives and works in Seattle, where he originally worked as Dale Chihuly's gaffer (master glassblower) in the early 1980s.
Morris' work is strongly influenced by his interest in archaeology, ancient pagan cultures, and mythology. He also acknowledges the influence of Italian glass artists in his work. He is especially known for his unique treatment of surface, which he achieves by various techniques, including etching and acid washing. Morris is represented in prestigious national and international collections, including the Metropolitan Museum of Art and the Louvre.
---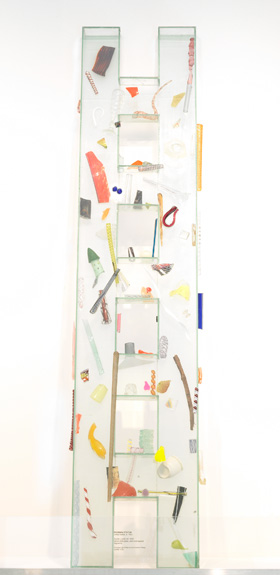 Therman Statom, United States, b. 1953
Seattle Ladder #2, 1992
constructed glass, paint and applied fragments, 84 x 19 1⁄2 x 5"
Promised gift of Myrna and Sheldon Palley, IL2008.13.39
©1992 Therman Statom
Therman Statom (b. 1953, Florida) grew up in Washington D.C., where the Statoms were, according to the artist, the first African-Americans on the block. He credits Katy Noland, the daughter of painter Kenneth Noland, with whom he attended Georgetown Day School, with introducing him to the innumerable galleries and museums of Washington D.C., which he was soon frequenting. Initially attracted to ceramics, Statom studied at Pilchuck Glass School, earned his B.F.A. in sculpture from the Rhode Island School of Design, and his M.F.A. in sculpture from the Pratt Institute. Known as an innovator, Statom has, throughout his career, pushed the boundaries of his medium, creating huge, painterly glass installations in public as well as private spaces. His work is included in numerous distinguished collections, including the Detroit Institute of Arts, the Toledo Museum of Art, and the California African American.